We know what it's like, being snowed-in can get monotonous, but have no fear Family Fun Hobbies is here!
With the impending storm, we wanted to give you some ideas to preemptively stop boredom beforeit starts with Seven Snowed-In Suggestions to keep you and yours sane.
1.  Mad Libs – You remember how much fun you had, share it with your family. We have tons of different books in stock for every interest.
2.  Forbidden Island/Forbidden Desert – In this 2-4 Player BoardGame, teams go on missions to claim four sacred treasures. The game stresses problem solving, strategic thinking and cooperation. Dare to discover Forbidden Island! Join a team of fearless adventurers on a do-or-die mission to capture four sacred treasures from the ruins of this perilous paradise. Your team will have to work together and make some pulse-pounding maneuvers, as the island will sink beneath every step! Race to collect the treasures and make a triumphant escape before you are swallowed into the watery abyss!For a quick video teaser click here. 30 minutes play time. Ages 10+

3. Dixit (and expansions) – There is an old saying that every picture tells a story. Live the truth of that saying in the game Dixit, in which lovingly crafted pictures shape stories that you tell. Winner of the 2010 Spiel des Jahres award for Game of the Year, Dixit can be played with three to six players, and is suitable for adults and children, family and friends, and anyone with whom you share a common language.
In this game of imagination and creative guesswork, players take turns playing the storyteller, telling a brief story based on a picture card. As the storyteller, you select a card from your hand, play it facedown, and speak a word, phrase, or sentence represented by the picture. The others play facedown the picture card fromtheir own hand which best represents, to them, what you've said. The cards are shuffled and revealed, and each player votes for the image that they think inspired the storyteller's brief tale.
If all players correctly guess the storyteller's card, everyone but the storyteller earns two points. If only a few players guess it, then they and the storyteller earn three points. In thatcase, every player, including the storyteller, earns a pointper vote that their card received so that the most imaginative matches between pictures and words are rewarded no matter who made them. 3-6 Players, Ages 8+.
4. Puzzles – We have them for all age ranges and all interests! Puzzles are an excellent activity for keeping your brain sharp. They challenge your dexterity, spatial reasoning, and logic. Even better, they work both sides of your brain simultaneously, something few other activities do. The creative side works to see the finished product, while the logical side works to fit the pieces. Plus, Puzzles are interactive. Your entire family can work on one puzzle together, creating valuable social interaction! Even better, puzzles don't require electricity if the power goes out during the storm!
5. Happy Salmon – Who doesn't love a card game which involves fish, high fives and fist bumps? Click here for a quick demo! Happy Salmon is the simple, fast-paced card game packed to the gills with high-fivin', fin-flappin' fun. Actions including the classic "High 5", the unifying "Pound It", the frantic "Switcheroo", and the delightful "Happy Salmon" will leave players doubled over in laughter. With so many mini-celebrations b
uilt into the play, it's the happiest game ever!
How to Play:
Everyone calls out the action shown on their top card.
When two players have a match, they celebrate by
performing that action together, then discard their top card.
The first player to match all of the cards in their deck wins!
6. Adult Coloring Books – "In a very short time, coloring has proven surprisingly addictive for America's stresse
d, anxious, and overworked. Therapeutic without being therapy, meditative without being meditation, creative without being creation, artsy without being art, the supposedly soothing activity has also become a big business—in 2015 alone, US sales of coloring books shot up from 1 to 12 million units." – qz.com
We have a huge selection of coloring books in store to keep you occupied while the kids run amuck in the snow. Coloring also helps to reduce stress and anxiety! Who doesn't love that?
7. Science Kits – Family Fun Hobbies has a huge selection of science kits from the short to the involved to cover many interests and age ranges.  Kits are a great help for parents who teach their children at home by themselves and want to make the topics interesting or just to fill some time in an educational way. Science kits make use of real life investigations that help kids to think about what they have learnt and how to apply it when they go outside to discover, or while they are in the classroom. Overall, educational science kits will teach a child science concepts that they can apply to the world around them, and help them think outside the box. Teachers and parents find these kits very useful in educating their children because these kits help teach both the in-depth principles of science and the hand-on learning of science.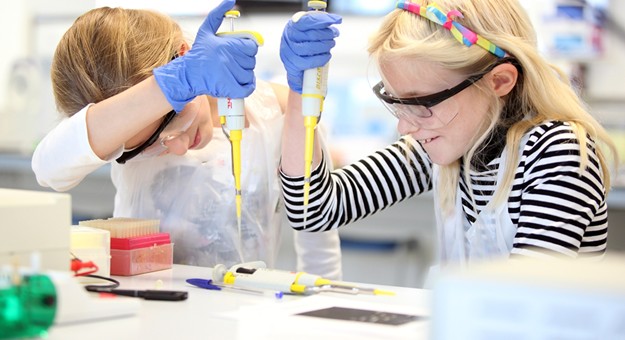 We hope you've enjoyed our Seven Snowed-In Suggestions for Family Fun!