Let's face it, sometimes you just want to play a game with your significant other, or you just don't have 4 people available for a larger player game. To celebrate Valentine's Day, here are some games you can play with just 2 players!
1.  Star Realms – Star Realms is a basic two-player deck building game set in a distant future where d
ifferent races battle over resources. To win, you need to build up your fleet of bases and starships until you have enough power to wipe out your opponent. Similar to other deck building games, you want to try to obtain cards that work well together; and in Star Realms, that means getting cards that are from the same faction. Cards can be purchased using "trade" points and players attack each others "authority" points using "combat" points. The first player to reduce their opponent authority points to zero is declared the winner and supreme ruler of space.
2. Patchwork – A light, two-player game about quilting from the designer best known for the heavy serf farming epic Agricola, the heavy Frisian farming epic Fields of Arle, and the heavy dwarf farming epic Caverna? Yep…and we love it!
Patchwork is a two-player game about picking up fabric pieces and assembling them, Tetris-like, onto your per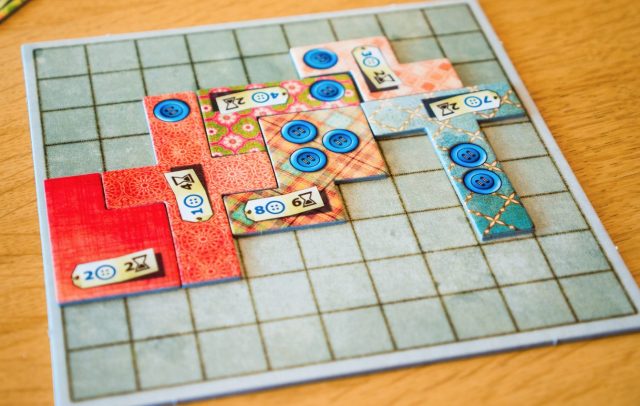 sonal square game board while simultaneously trying to maximize the number of "buttons" that these pieces deposit in your personal treasury. The game uses a wonderful circular movement mechanic to ensure that on each turn, players have a choice of just three fabric pieces—but that these three change constantly.
The rules can be explained in a couple of minutes, the game play is quick (20 minutes) and non-confrontational, and play is
smooth and engaging. Quilt away!
3. Hive – Hive is "like chess but with bugs—and no board." Depending on your entomological proclivities, that may sound amazing or like an idea worthy of being squashed. But if you're in the former camp, give Hive a chance; it's a winning two-player-only game that's compact enough to be played at a cafe and short enough to break out when you have just a few minutes of downtime.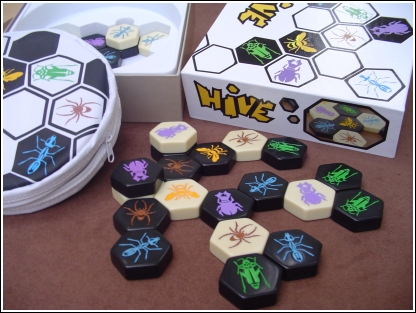 In Hive, each side, white and black, must protect its queen bee while simultaneously moving to encircle the opposing queen. The "board" is simply any flat surface; pieces are placed in alternating turns, with each hex-shaped slabs growing the "hive" in organic fashion. Different pieces show different insects, and each kind of bug moves differently—worker ants can move at will around the edges of the hive, while beetles can clamber up and over other pieces—so the hive morphs constantly. Play itself has only a few simple rules about unit placement and movement, which are easily mastered even by many children.
4. Lost Cities – Who will discover the ancient civilizations? Two explorers embark on research journeys to remote corners of the world: the Himalayan mountains, the Central American rainforest, the Egyptian desert, a mysterious volcano, and the bottom of the sea. As the cards are played, the expedition routes take shape and the explorers e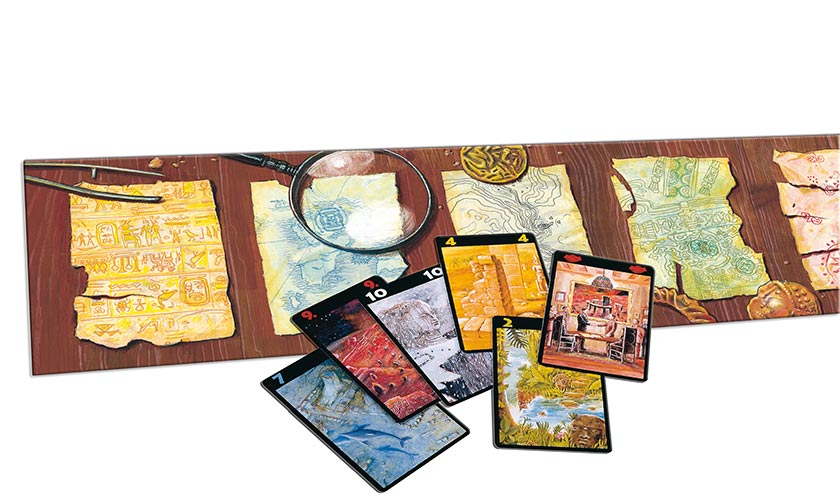 arn points. The most daring adventurers make bets on the success of their expeditions. The explorer with the highest score after three rounds of expeditions wins. The rules of the game are simple, but beware: The lost cities hold many unseen mysteries!
Watch this quick overview video now!
5. Carcassonne – In Carcassonne, players build the area surrounding this impressive city, one tile at a time. They then place a follower on fields, cities, roads or monasteries in order to score as many points as possible. These followers will become knights, monks, farmers and thieves, depending on where they are placed. No matter their function, the player who will most cleverly use their followers will win the game.
6. Splendor – It is the renaissance. Fine art is in demand and wealthy nobles are looking to spend their family's coin. You, a rich merchant, are only too happy to take advantage of these fine folks. You will use your resources to acquire mi
nes, transportation methods and artisans who can turn these raw gems into profitable jewels. Splendor is, at its heart, an engine building game. The main focus of the game will be acquiring development cards by spending your gems (chips). Every card you buy makes it easier to acquire future cards and may also provide you with prestige points (victory points). The key is that these purchased cards allow players to buy subsequent development cards for a lesser cost. Be the first player to 15 prestige points to win.
7. Lanterns: The Harvest Festival – The harvest is in, the workers are fed, and now it's time to cele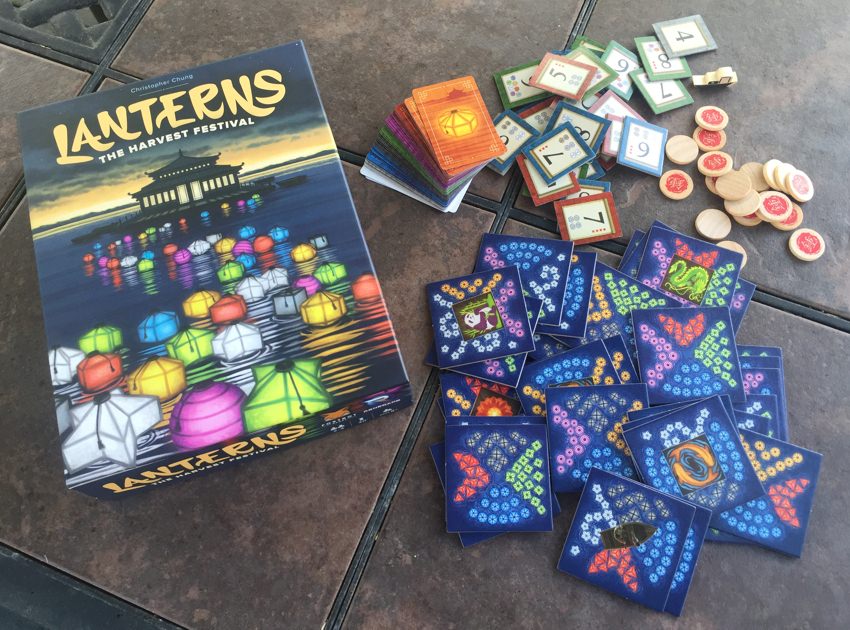 brate! Players act as artisans decorating the palace lake with floating lanterns in preparation for the annual harvest festival.
On a turn, a player places a tile depicting various color arrangements, and every player receives lantern cards based on the tile placed. Players dedicate sets of lantern cards to gain honor and favor. We love how visually beautiful this game is. While simple in rules, this game is full of strategy!
8. Castellan – Two players work together to build a castle. Wall and tower pieces link to form courtyards. The player who finishes a courtyard claims it with a Keep.
Your cards de
termine what pieces you get each turn . . . but you decide where to put them. If you're clever, the pieces played by your opponent can end up scoring for you!
Castellan includes 108 detailed castle pieces and 28 cards, and plays in less than an hour. If you combine red/blue and green/yellow Castellan sets, you can play with three or four players.
 9. World's Fair1893 – The World's Fair of 1893 showcased many great achievements in science, technology, culture, and entertainment. Acting as an organizer of the fair, send out your supporters to gain favor with influential people and secure the grand exhibits that will be put on display. 
World's Fair 1893 is an area majority and set collection game for 2-4 players that plays in about 40 minutes. On your turn, you send a supporter to one of the fives areas and collect all the cards next to it. Choose carefully to collect the cards you need and also beat out your opponents for control in the various areas:
The main exhibit cards could earn you the most points, but only if you have the supporters you need in the matching area to get the exhibits approved into the fair.
Favors from the influential figure cards will increase your supporters in the areas and help you approve the exhibits you've already collected.
The Midway ticket cards for the fun and profitable attractions score you a small number of points and move the game forward.
10. Love Letter – Love Letter is a game of risk, deduction, and luck, for 2–4 players. Designed by Seiji Kanai, the game features incredibly simple rules that create dynamic and exciting player interactions. Players attempt to
deliver their love letter into the Princess's hands while keeping other players' letters away. Powerful cards lead to early gains, but make you a target. Rely on weaker cards for too long and your letter may be tossed in the fire!
There are currently nine releases in the Love Letter series!