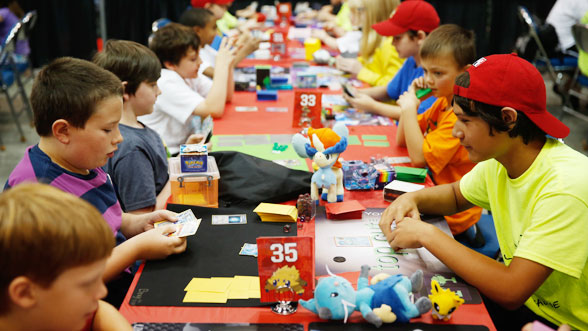 January 21st, 2017
10:00 AM to 6:00 PM
Event Registration Time: 10:00 AM
Event Start Time: 11:00 AM
Location: Burlington Center Mall – 2501 Mt Holly Rd, Burlington, NJ 08016
Entry Fee: $15 entry fee
We are hosting the Family Fun Hobbies Winter League Cup at the Burlington Center Mall to make sure that we have enough room for all the players since space is limited in our store.
Prizes will be determined by the number of entrants.
The tournament will be held in the Standard format and Rounds will be 30 minute single games.
Family Fun Hobbies will be on-site with Pokemon products to purchase, so bring extra money!
Pokémon tournaments are live events that give you the opportunity to compete against other players in the Pokémon TCG. Pokémon tournaments take place worldwide and offer a competitive atmosphere where players can demonstrate their Pokémon gaming skills.
Tournaments take place year-round. To find out where you can compete in your area, use the event locator. If your search turns up nothing, keep checking back—new tournaments are added daily!
Most Pokémon tournaments are open to players of all skill levels. Additionally, most tournaments require no advance registration—all you need to do is show up with a valid Pokémon TCG deck.
To participate in a Pokémon tournament, you must be a player in good standing and abide by the Pokémon Tournament Rules and all other applicable event rules. Players who are found to be in violation of the rules of eligibility are subject to suspension from the Play! Pokémon program and to the loss of prizes, including, but not limited to, invitations and Travel Awards.
Most Pokémon Championship events are operated by independent Tournament Organizers. Please contact the Tournament Organizers for specific information about their venue or scheduling. The Tournament Organizer for our Winter League Cup is Michael Martin, 856-266-6377.
Information for Competitors
A player's Pokémon TCG deck must comply with the Standard Format as outlined in the Pokémon Tournament Rules.
All players are expected to bring their Player ID card, if they have one. If they have not previously been given a Player ID, one can be obtained at the event.
Players should review the Pokémon Tournament Rules for more information about what to bring to an event.
Pokémon TCG League Cup tournaments are smaller events that give players an opportunity to earn Championship Points and practice their skills for larger competitions. The Pokémon TCG League Cup events are held throughout the year. To find times and locations of League Cup events in your area, click here.
Are there any requirements for attendance?
The Pokémon TCG League Cup events do not require an invitation or qualification. All players who have Trainer Club accounts and are in good standing with the Play! Pokémon rules are welcome to participate. Players need to bring their own 60-card deck. League Cup will use the Standard format.
For more information click below!